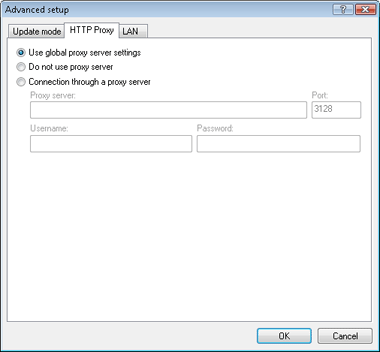 This section should be filled in if your computer is connected to the Internet via a proxy server. The settings are taken from Internet Explorer during program installation, but if they are subsequently changed (for example if you change your ISP), please check that the HTTP proxy settings are correct in this window, otherwise the program will not be able to connect to the update servers.
Use global proxy server settings
If checked, the program will use data entered in the global setup tab.
Do not use proxy server
No proxy server is used for connecting to the Internet.
Connection through a proxy server
Check this box if your computer uses a proxy server to connect to the Internet.
Proxy server, Port
Enter the address and port of the proxy server you use.
User name, password
These are your authentication data to access the proxy server. Fill in these fields only if a username and password are required. Please note that these fields are not for your password/username for ESET NOD32 Antivirus, and should only be supplied if you know you need a password to access the internet via a proxy server.
HTTP Proxy