The Alerts and notifications setup section under User interface allows you to configure how threat alert messages and system notifications are handled in ESET NOD32 Antivirus.
The first item is Display alerts. Disabling this option will cancel all alert windows and is only suitable for a limited amount of specific situations. For most users, we recommend that you keep the default option (enabled).
To close pop-up windows automatically after a certain period of time, select the option Close notification windows automatically (sec.). If not closed by the user, alert windows are closed after the specified time period has expired.
Notifications on the desktop and balloon tips are informative means, which neither offer nor require user interaction. They are displayed in the system tray area at the bottom right corner of the screen. To activate displaying desktop notifications, enable the option Display notifications on desktop. More detailed options – notification display time and window transparency can be modified by clicking the Configure notifications… button. To preview behavior of notifications, click on the Preview button. To configure the duration of the balloon tips display time, see the option Display balloon tips in taskbar (for sec.).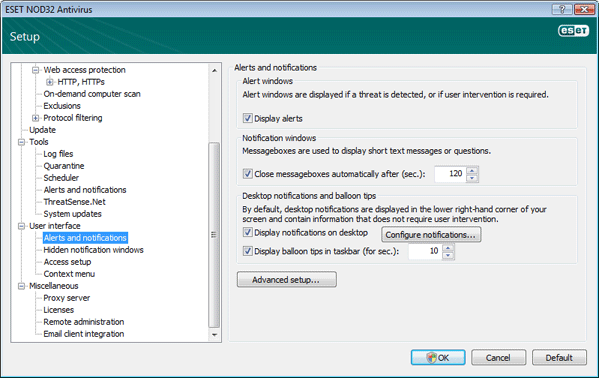 In the bottom section of the Alerts and notifications setup window, there is the option Only display notifications requiring user intervention . With this option you can turn on/off displaying of alerts and notifications that require no user intervention. The last feature of this section is specifying addresses of notifications in a multi-user environment. The On multi-user systems, display notifications on the screen of the user: field allows the user to define who will receive important notifications from ESET NOD32 Antivirus. Normally this would be a system or network administrator. This option is especially useful for terminal servers, provided that all system notifications are sent to the administrator.
Alerts and notifications